Aquanaut newsletter
Stay informed of our latest news and receive 1 x quarterly newsletter.
We rent your Aquanaut!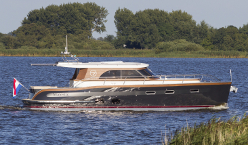 Hiring out your Aquanaut – Double Delight
Investing in your own luxury hire boat, an Aquanaut motor yacht, can provide you with a significant annual income. Additionally, you can still enjoy the use of the boat under the mantel of our long established hiring organisation.
Boats with unprecedented comfort
Our motor yachts offer a similar comfort to that at home. See them as floating holiday bungalows, but then at differing dream locations: In open countryside or in an historical town centre. When aboard an Aquanaut motor yacht you are always sitting at a waterside terrace with the view of your choice; no two days have to be the same. Only a well equipped motor yacht can offer you such pleasure!
Professional
We are professional yacht builders and hirers with our own boatyard and charter base, and we are affiliated to Boat Charter Holland and other relevant organisations such as the HISWA. So confidence is the keyword!
Interested?
Should you have a mind to invest in one of our motor yachts we would be pleased to offer you, without obligation, a personalised charter management programme. Call or email me for an early appointment.
With best regards,
Fimme Folmer,
Director Aquanaut Yachtcharter
Click here to view the rental conditions.
Click here for the Hiswa rental conditions.