Aquanaut newsletter
Stay informed of our latest news and receive 1 x quarterly newsletter.
Due to the tightened measures regarding the coronavirus, the spring show of Motorboot Sneek will be canceled on April 3, 4 and 5. The largest motor yacht show in the north attracts more than a hundred visitors and is therefore part of the tightened measures to prevent the further spread of the coronavirus.
Of course you are welcome that weekend to visit Aquanaut and yacht brokerage 4Beaufort. Both new-build yachts and occassions are ready to be viewed.
Read the testreport of the Drifter 350 AC in Motorboot Oct 2019.
More information over the Drifter 350 AC you can find here.
On 30 and 31 October and 1 November 2020, the autumn show of Motorboot Sneek will take place, daily from 10: 00-17: 00.
There are more than 400 new and used motor yachts to see.
Read the testreport in Skipper Bootshandel nr. 7-2019.
The test is from the rental yacht Varuna, a Drifter CS 1000 AK, a sister ship to the Odin.
More information over the Varuna and the Odin you can find here.
Read the testreport in Motorboot Magazin 08-19.
More information over the Privilege 460 AC PH you can find here.
The delivery of the first Drifter 350 AC 3.0.
Click here for more information about the Drifter 3.0.
The delivery of the European Voyager 1300 Classic.
The Russian customers will first sail here in Friesland.
Click here for more information about the Aquanaut European Voyager.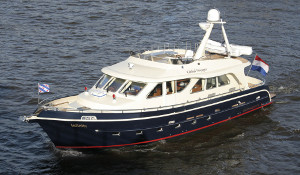 The MagnusMaster has now also been discovered in Greece. In the coming months a large amount of hard work will be put into the major refit of an Aquanaut GV 1700 called MY Infinity. This vessel was originally equipped with fin stabilisers which were struck for the third time and damaged last year whilst sailing around the beautiful Greek Islands. This was partly why the owner decided to have the current system replaced by the MagnusMaster stabilisation system which, as is known, is electric and collapsible. Now that the fin system has been replaced, it has been decided to place the MagnusMasters as far back as possible to give even more protection when retracting back through the keel of the vessel. The boat belongs to a Russian owner and, as many more Russian owners are already in possession of a MagnusMaster system or want to purchase it, DMS Holland has decided to publish a Russian version of their brochure.
Lees meer over de MagnusMaster (PDF)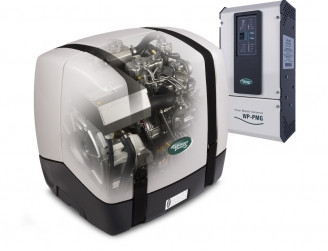 In addition to the small 3.5 kW Piccolo generator, a Piccolo 8 (6kW) and a Piccolo 10 (8kW) generator in Polyester housing are available. The introduction of these, extremely quiet, units can be seen and heard live during the MotorBootSneek spring show at Aquanaut where WhisperPower will be present with the demo bus.