Aquanaut newsletter
Stay informed of our latest news and receive 1 x quarterly newsletter.
Satisfied customers
Look forward to hear what customers find of us and our boats? Here's the first experience.
'A fantastic boat tailor made'
Since July 2014 Ulrich Weber-Mani, from Switzerland, has been the proud owner of the Drifter CS 1300 AC "Cygnus".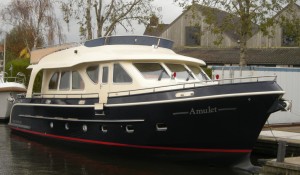 'Op reis met de Global Voyager'
Viktor Tatarinov uit Rusland geniet op dit moment met volle teugen van zijn Global Voyager die hij door Aquanaut liet bouwen. 'Aquanaut heeft door haar jarenlange ervaring een goede reputatie opgebouwd', aldus Viktor.