Aquanaut newsletter
Stay informed of our latest news and receive 1 x quarterly newsletter.
A Story of Practical Experience Aquanaut Drifter CS 1300 AK "Cygnus"
'A fantastic boat tailor made'
Since July 2014 Ulrich Weber-Mani, from Switzerland, has been the proud owner of the Drifter CS 1300 AK "Cygnus". He chose this Aquanaut model because he preferred to have a solid steel boat with classic lines. "The Drifter has proven itself as a reliable and comfortable boat", said Ulrich. "Furthermore, Aquanaut has the necessary experience and ISO Certification, which gives confidence".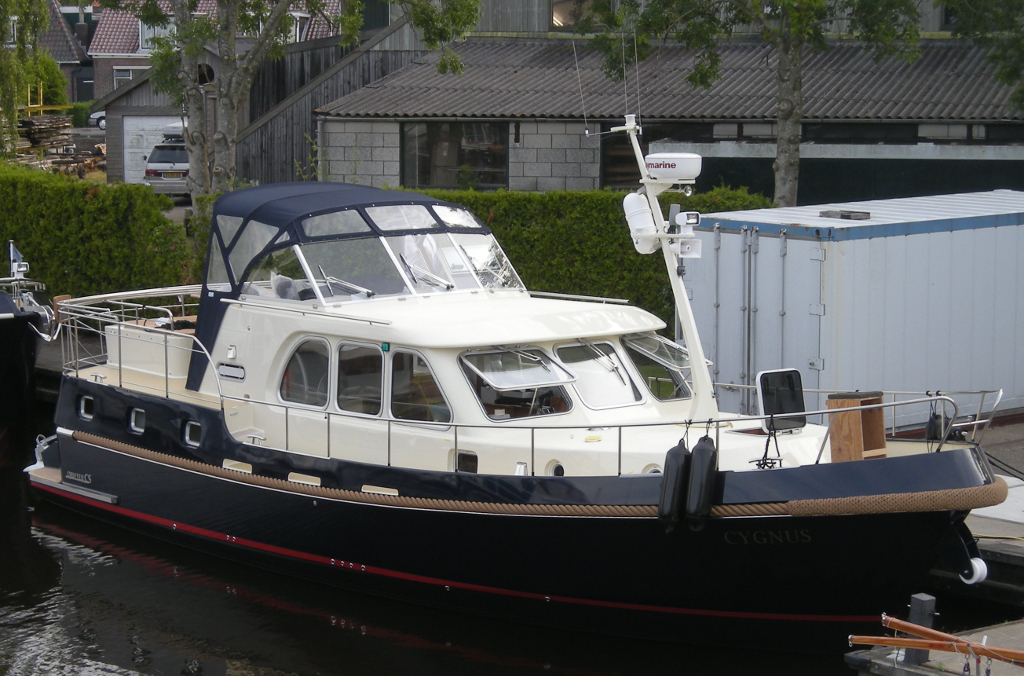 The Cygnus was custom built for Ulrich and his wife Sibilla. Ulrich: "That is how many of our personal wishes could be incorporated into the design. As we have a preference for sailing in more northerly areas and outside the recognised summer season, the Cygnus has additional insulation and more generous warm water facilities. To give us the most independence possible, we had larger fuel and water tanks fitted and the batteries have a larger capacity than usual. I am also very happy with the autopilot, a solution for long distances or heavy going
such as coping with the Skagerrak that we crossed last year. Then there is the navigation apparatus which is put to good use, such as VHF, plotter and AIS".
With his wife Sibilla, daughter Livia (14) and son Benedict (12) Ulrich spends as much time as possible aboard the Cygnus, which accounts for most of the holidays. Since the boat's delivery in 2014 they have already been aboard Cygnus six times, including holidays to Denmark and Sweden which impressed them the most. Ulrich tells us about this holiday: "It was very varied. We sailed through small waterways such as the Søderborg en Middelfart, but also over the Skagerrak. We moored in harbours and small islands, and at quaysides like the Danish Grenå which has a fantastic aquarium. We really enjoyed Sweden's west coast with all its small cliffs which demands precise navigation. One moment the coast is flat and cold, and a little later you sail into an idyllic bay with fields and trees down to the water's edge. There are many old villages with picturesque wooden houses and the people are very friendly. We were there in April and that is just the right period; it is crowded with boats and people in the summertime. The children sometimes found the long distances boring, but then this was often countered by being completely surprised by dolphins. We thoroughly enjoyed the silence, the expanse and the colours on the water".
Ulrich cannot praise the Drifter CS 1300 AC enough: "With her length of 13 meters, a 4 meter beam, a displacement of 18 tons and a strong engine the Cygnus is a seaworthy boat. The old saying "a ship is often more seaworthy than its crew" has been taken up by our family. In heavy weather my wife and son suffer from sea sickness though".
Ulrich and Sibilla are now planning to sail Cygnus each year to explore new areas of Europe, but they are first returning to Sweden's west coast this summer. "There is still much to discover there and to enjoy with our Drifter, which attracted much admiration in Scandinavia".