Aquanaut newsletter
Stay informed of our latest news and receive 1 x quarterly newsletter.
Access
An adapted yacht
A tough Aquanaut motor yacht with fantastic sailing characteristics (including bow and stern thruster), great comfort (a super quiet engine and air conditioning under deck) and with all options for people with disabilities (all on the ground floor, high / low kitchen top, lifts, spacious and complete sanitary facilities , high / low bed).
The Foundation Adapted Watersport Friesland (SAWF) offers disabled people the possibility to take full part in the water sport. THE SAWF generate resources, initiate and accompany activities which coincide with the realisation of this objective. The 'ACCESS' – a wheelchair accessible yacht – has been developed especially for people with a handicap. The adaptations: flat and accessibly at front and aft deck, extra large saloon, fireproof casing, low window parties, tinted windows, wide doors, wheelchair cabins (with lifter and special bed) wheelchair bathroom (with lifter and many extras) and extra comfort (CV in whole hunting / airco in 3 cabins) make a stay possibly still more pleasant than at home. The very silent diesel-hydraulic traction stands guarantee for a holiday of rest and pleasure.
Owner SAWF (Stichting Customized Watersport Friesland) guides you as a customer personally with the instruction and a trial run. For more information go to www.sawf.nl
Technical Data
Length over all 14,95 m
Beam 4,55 m
Air draught 4,00 m
Berth 8 - 10 m
Draught 1,25 m
Motor Perkins M150Ti 148 pk / 109 kW
Fueltank 500 L
Watertank 1200 L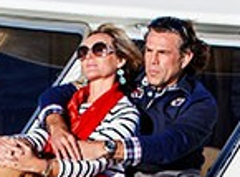 "With an Aquanaut Yacht the destination can not be more beautiful than the voyage."