Aquanaut newsletter
Stay informed of our latest news and receive 1 x quarterly newsletter.
Lines ends nowhere ...
Privilege
Privilege 1150 AK / 1250 AK / 1350 AK / 1500 AK / 1700 PH / 1200 OK / 1350 OK / 1500 OK
A derivative of the Drifter CS, also has seaworthy possibilities. A unique aspect of this yacht is the rounded corners. Nowhere in the striking superstructure are sharp corners or edges to be found. The salon deck with double curved lines and the windshield foundation, stairs, boarding stairway and swimming platform with rounded corners are technical wonders made possible by computer controlled manufacture combined with manual craftsmanship. AK stands for Aft Cabin and OK for Open Cockpit. On the latter model the cockpit, salon and galley are all on one level. Each Privilege has a generous head-height interior, as does the owner's cabin. The yacht is characterized by plenty of outward view and light, and striping detail that seems to be continuous. The hull is low amidships, which makes it easier for boarding.
Length over all from 11.50 – 17.00 meter.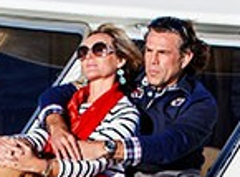 "There must be a very special reason, to voluntarily disembark."