Aquanaut newsletter
Stay informed of our latest news and receive 1 x quarterly newsletter.
Andante 438 AC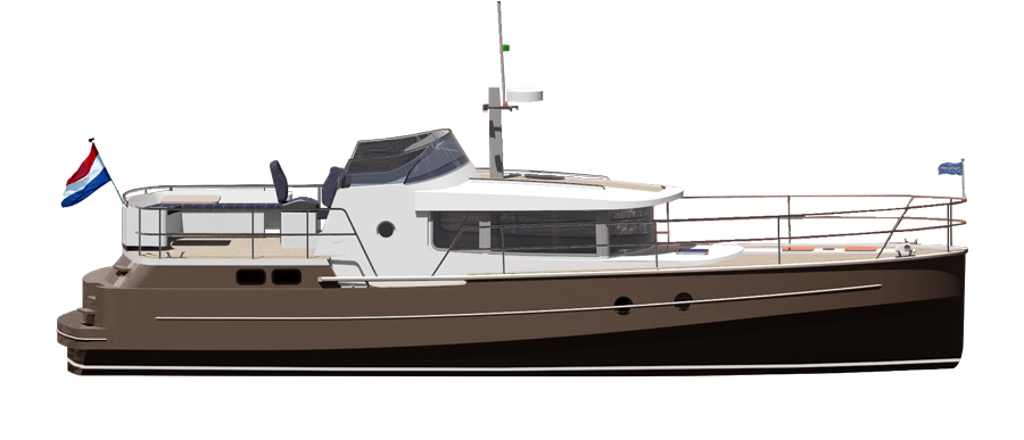 Construction Andante 438 AC started
Beautifully designed stern and spacious interior
Of course we don't lean back at Aquanaut Yachting. After the successful introduction of the 438 OC we are busy building the Andante 438 AC. With its distinctive spherical frontwindows of which the format is reflected in the windshield, the continuous roof, the axe bow and the straight edges is the AC also a real Andante. The biggest difference is the afterdeck with below it the owner's cabin where the OC has an open cockpit. Particularly beautiful is the stepped stern where halfway through even a seat can be found. By the bakdek-principle, the bow-shape and the straight edges there is a metre more space in the interiour resulting in the foreship cabin further forward and there is a possibility for four cabins. The layout with two cabins has galley on starboard. By choosing this form and place there is a huge salon with both a six-person U-bank and a dinette. Of course other formats and variations are possible. The Andante 438 AC measures 13.15 x 4.20 meters.
Some special features of the new Andante line are:
CE category B – you have the whole of Europe as your sailing area.
Robust Perkins diesel engines – solid, strong and reliable.
Custom built – you decide about the technique, the interior and the equipment.