Aquanaut newsletter
Stay informed of our latest news and receive 1 x quarterly newsletter.
Andante 500 AC-PH
King of the yacht types was always the Wheelhouse/Pilothouse type. Stately yachts in larger sizes, where volume, seaworthiness and view were more important than slightly higher vertical clearance. Sedan models that did provide this were indiscriminately copied from each other with a minimum of distinctiveness, all with the same drawbacks. Cruise across the country and no one even takes off their intricate convertible top for a bridge. They are opening quickly everywhere these days. Nobody wants to sit in the sun for long and sailing is longer in the seasons. Nowadays you can actually live fine (permanently) on a suitable, cleverly designed 40 to 50 feet.
After quite a few different Andante types (currently 3 different ones under construction), Willem Nieland design added a 'PH' toughness and sportiness for us.
Others may judge about the special appearance, the sailing characteristics and ultra practical solutions do not even need to be mentioned.
After the first 12 meters of 'PH', orders for larger versions quickly came. The provisional flagship is 15 meters. The cozy and very comfortable top cockpit above the aft cabin gives you an open cockpit feeling with top shelter and top views. With just a full-fledged aft cabin underneath, loved for its space and excellent privacy. The beauty is that the magnitude stability for seaworthiness increases for free. Furthermore, everything is different, the engine room has a different location with complete headroom and partly because of this there are many options for taking personal preference.
The semi-round bilge is designed for (very) economical and comfortable sailing in sea conditions. Built in durable aluminum she doesn't pull huge stern waves above displacement speeds and cuts through an oncoming sea without mountains of spray on deck. Without hassle, the most beautiful destinations are sooner in prospect, range and construction are designed for it. Sailing away from a depression, in the event of unexpected illness or calamities on board, or reaching the destination in time before the tide turns is the underlying idea. Not an ugly hull for speeds well above 20 knots, which sail miserable at lower speeds, you look at the foredeck with a strongly crippling ship with a lot of noise and consumption of huge engines.
Just an honest Aquanaut; an integrated swimming platform with almost 15 meters of waterline, based on the concept now greater customer input is possible, large surface area for solar panels and hybrid sailing based on the latest insights, but no jubilant stories that do not belong to Aquanaut.
Technical Data
Length over all 14,99 - 15,70 m
Beam 4,70 m
Air draught 3,99 m
Draught 1,20 m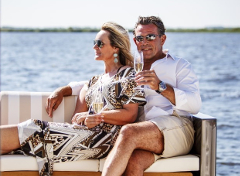 "The only moment you will regret, that is when you have to go home."